It is time for another episode of
Star Trek
, today it is
The Apple
it certainly has more than a couple of flaws. It bears more than a strong resemblance to the season one episode
Return of the Archons
(a society controlled by a machine) with elements of
Shore Leave
(mysterious force threatening the
Enterprise
),
This Side of Paradise
(flowers that shoot stuff), and
Who Morns for Adonias
(phasering a structure at the end to save the day) thrown in too. Hey, they can't
all
be original, can they?
The Apple
was written by author Max Ehrlich (with heavy re-writes by Gene L. Coon). Ehrlich was no stranger to TV or science fiction. He penned
The Big Eye
, a cheesy 1949 novel set a Palomar Observatory, which seems to borrow heavily from the 1933 novel
When Worlds Collide
, which was made into the 1951 movie of the same name.
They've beamed down a mere 17 kilometers (!), that's 10.5 miles, from the village they're going to contact, so they'd better get hiking.
I really like the planet set's orange sky that was created for Gamma Trianguli VI. Awesome stuff.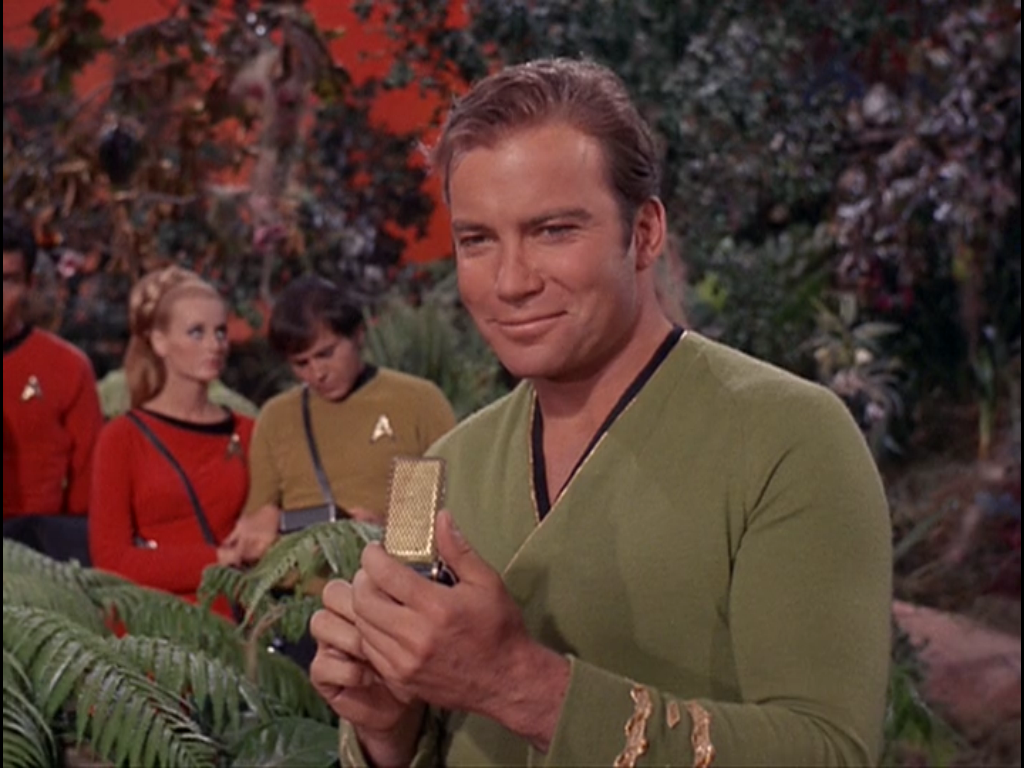 What, me worry?
Kirk calls up to report the death of a crewman and Scotty tells him that they are "
losing potency in our antimatter pods
" and the doesn't think it's serious, but they're looking into it.
Marc Cushman's wonderful book
These Are the Voyages TOS Season Two
reports that this explosion sent the actor to the emergency room. As you can see in the shot above at right, he was directly on top of the charge. The earlier explosion, where Spock tossed the rock, was also a problem, giving the cast damage to their hearing.
He causes the rains to fall and the sun to shine. All good comes from Vaal.
" Spock's readings indicate that the real workings of Vaal lie deep beneath the planet's surface.
Enterprise
- they've been hit with a tractor beam and will be pulled out of the sky and burn up in 16 hours. To add insult to injury, Kirk tells Scotty that if he can't get the warp drive working he's fired.
Replacements. None are necessary. They are forbidden by Vaal.
" When asked about love and intimacy he gives a similar response, "
The holding, the touching. Vaal has forbidden this.
" Prompting McCoy to say, "
Well, there goes paradise.
"
Mr. Fusion
in there somewhere.
Enterprise
. They try one big push with impulse power, but it's no use. The ship is going to burn up with everyone on board, so Kirk tells Scotty he's fired. Good move, Kirk. This likely will save Starfleet paying out some cash in survivor benefits to Scotty's nearest relatives. Maybe with the money saved they can build a new starship.
Enterprise
and leaving the people totally on their own. I guess Vaal was
really
hungry and starved to death.
The Apple
is a fun episode if you check your logical brain and just go with it but doesn't hold up to well to any level of scrutiny.
There was almost no new music written for this episode. Several minutes of percussion were written and recorded for the episode but were never used. They are available on the La-La Land Records complete release of Star Trek TOS music, but nothing to write home about. Instead, why not check out the song for the episode written by the band
Five Year Mission
. It's pretty wonderful.
Next up,
Mirror, Mirror.