We conclude our orbital tour of light pollution with an image taken on December 11, 2011 (just just 20 days ago) by the Expedition 30 crew of the International Space Station.
The photos shows the northeastern United States - from the top town is New York, NY; Philadelphia, PA; Baltimore, MD and
Washington, DC
. Just to the right of the bit the space station that is visible is the green glow of the northern lights and the curve of Earth's
air glow
.
The image was part of a sequence of images that were assembled into this
short video
sequence:
Another image from the ISS Expedition 30 crew, taken December 4th, shows a wide view of western Europe: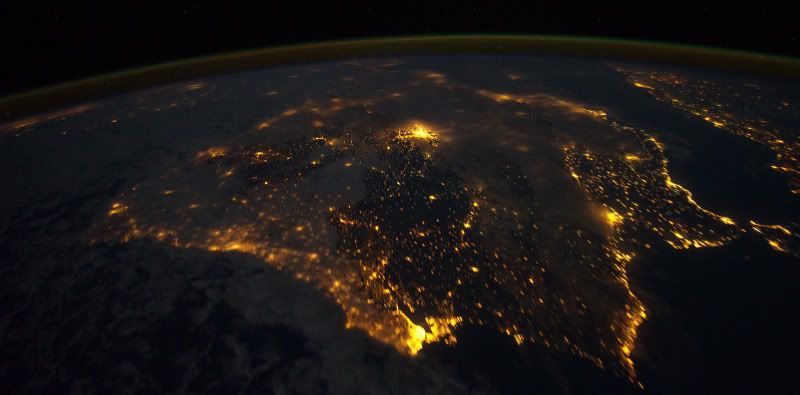 You can see Spain and Portugal, with Lisbon in the foreground near the Atlantic Ocean and
Madrid
in the middle of Spain. Again, this is part of a longer sequence, this time shot with two cameras, that make t
his video
:
Both the photos and videos show dense, light polluted, population centers.
I hope that you have enjoyed this month-long tour of city lights from space. There are more interesting photos to share and from time to time they'll be posted here.