Today is our third and final stop in Canada as we look at the city of Montreal, Canada. The image was taken January 24, 2010 by the Expedition 26 crew of the International Space Station:
Here is a labeled version of the photo: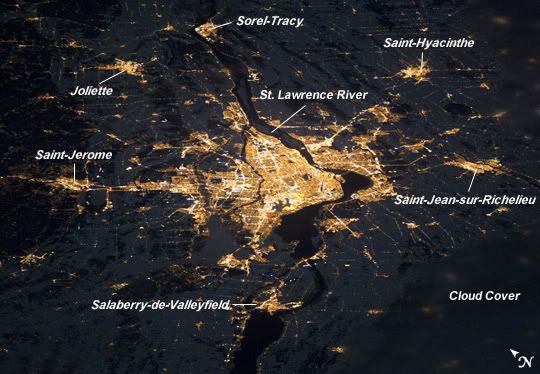 Like most big cities Montreal does not qualify as a dark sky place, but Canada does enjoy some pristine skies. Like the
International Dark-Sky Association
, the
Royal Astronomical Society of Canada
is very active about certifying
Dark-Sky Sites
.
Both organizations realize the importance of preserving and sharing the night sky. By creating programs that let city-dwellers experience the beauty of the night sky they can hopefully return to their home and affect positive change where they live.
Don't forget the IDA is in the
Pepsi Refresh competition
. You can
vote
each day in this month (December, 2011) to help the IDA create observing sites that will promote astronomy and dark-sky education.