Hey, it's time for another episode of
Star Trek
. Today, I bring you
I, Mudd
.
Mudd's Women
and
I, Mudd
) where he makes an appearance.
Roger C. Carmel
certainly gave expressively wonderful performances of this almost lovable 23rd Century conman, yet there is enough in both
Mudd
episodes to bring them down for me.
Our story begins with McCoy complaining to Spock about a new crewman, Norman, who, "
never smiles, whose conversation never varies from the routine of the job, and who won't talk about his background
." Not only that, he's missed two appointments for a physical. Presumably, he's getting billed anyway.
Kirk and the gang realize that the ship is off course and they've been locked out of all controls, when Norman enters the bridge saying that he's taken over. Not only that, any attempt to put the ship back on course will result in it's destruction. Norman then explains, "
I assure you we are no threat to humanity or humanoid life. We mean you no harm, but we require your ship
." When Kirk asks what he means by 'we', Norman gives us The Big Reveal:
The dude's an android!
Mudd: "behind every great man there is a woman urging him on. And so it was with my Stella. She urged me on into outer space. Not that she meant to, but with her continual, eternal, confounded nagging. Well, I think of her constantly, and every time I do, I go further out into space."
We soon learn that the androids are from the
Andromeda galaxy
(m31) and that they need human beings to serve and study. In fact, they plan on using the
Enterprise
to take over the galaxy. As Norman put it, "
We cannot allow any race as greedy and corruptible as yours to have free run of the galaxy....We shall serve them. Their kind will be eager to accept our service. Soon they will become completely dependent upon us.
"
None of this seemed to bother Mudd until he realized that he was going to be marooned on the planet along with the entire crew of the
Enterprise
. So, what to do?
each android mind must be one component of a mass brain linked through a central locus
." Yeah, Norman is the key.
It was never discussed how Norman would control the other androids that were going to serve humanity throughout the galaxy, but I'm sure he's just that awesome.
Or is he? Kirk and the gang decide to behave irrationally so as to confuse the androids and then overload Norman. It's all kind of painful to watch though.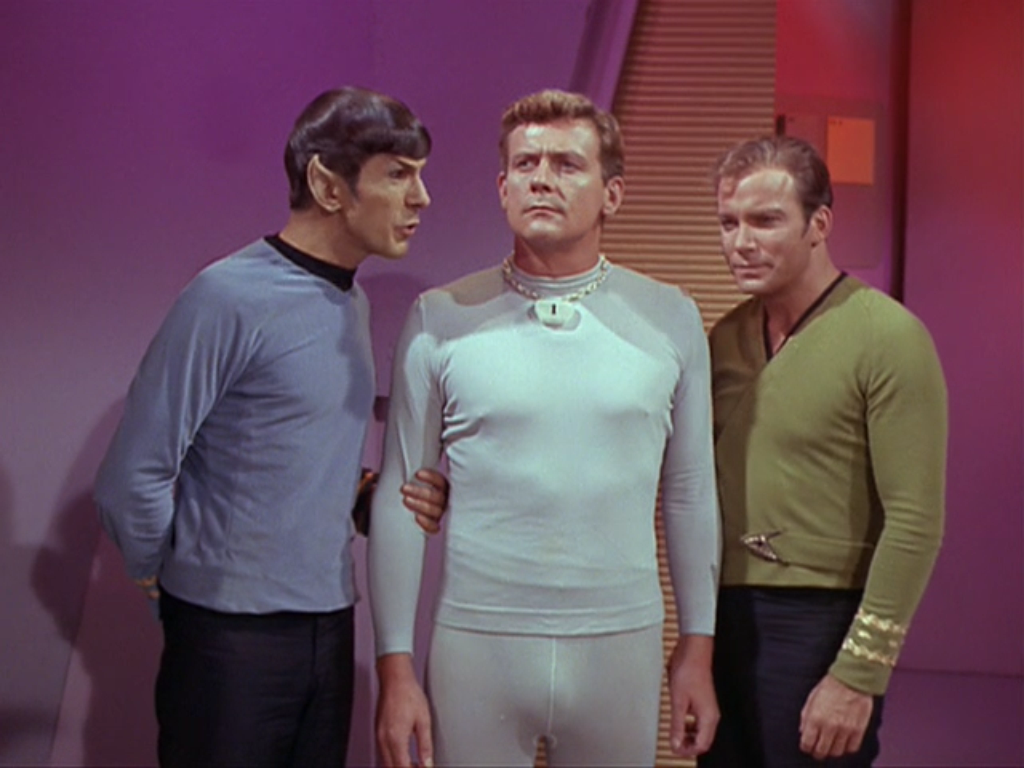 Spock: "Logic is a little tweeting bird chirping in a meadow. Logic is a wreath of pretty flowers which smell bad."
You say you are lying, but if everything you say is a lie then you are telling the truth, but you cannot tell the truth because everything you say is a lie. You lie. You tell the truth. But you cannot for. Illogical! Illogical! Please explain.
"
Yeah, I know that this was meant to be a somewhat silly episode, but the payoff here doesn't work for me but it is keeping in the tradition of Kirk vs. Computer that we've seen previously in episodes like
The Return of the Archons
and
The Changeling
.
Trek
will go to that well again, but it would have been nice if they could have found another solution.
Speaking of a torture, composer Samuel Matlovsky's score for the episode might well qualify as such. The tracks from this episode are the only ones that, from the otherwise awesome
complete TOS music set from La-La Land Records
, are totally unlistenable. If you like
Trek
and music, you should have this set, but if you get it, skip over Matlovsky's score.
Next up is an episode that's much higher on almost everyone's list,
The Trouble With Tribbles
.